With so many trends going around, how's a gal to know what's really worth getting these days? Will this really keep the makeup in place? Is that beauty treatment really going to make your skin soft? How can you get the perfect cherry pout for the summer? This, and many other questions will be answered. We've piled a list of some of the greatest beauty splurges that we've come across, so now all that's left to do is make sure you share the info with your friends and go shopping together!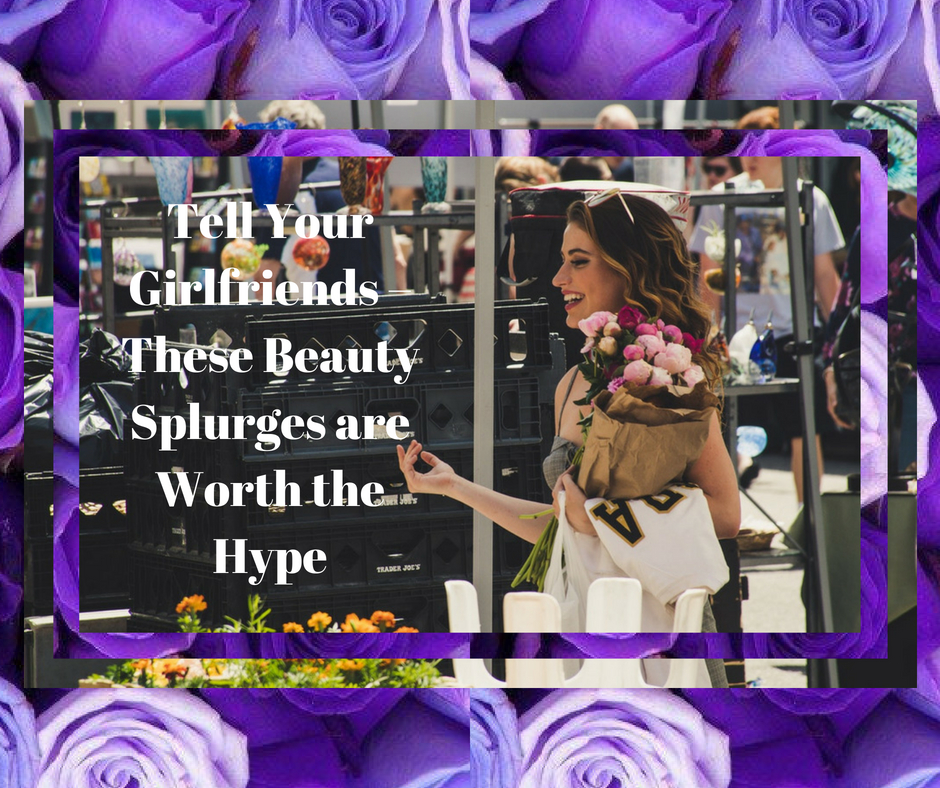 Dry shampoo with zero white residue
As most gals know, dry shampoo can be a real lifesaver at times, particularly while you're traveling or just need to do a little touch up to give the hair back some liveliness. Not that regular drugstore shampoo doesn't do the job, but it usually leaves a white cast that's pretty annoying to comb out, not to mention how it can leave your hair looking sticky and gross. Well, that's where our star enters! The Oribe Gold Lust Dry Shampoo is $44, but it's well-worth the splurge because not only is there no white residue, but it smells absolutely divine, prevents damage, and even gives your roots a nice lift so you get a ton more volume. This shampoo is magic in a bottle!
The perfect summer moisturizer
Unless your skin is really, really dry, chances are that you'll look like a disco ball if you use heavy moisturizers during summer. Well, before your t-zone turns into a greasy beacon that could direct ships, we urge you to try L'Occitane's Aqua Réotier Ultra Thirst Quenching Gel. The texture is so light that you'll feel like you've literally put nothing other than water on your skin, and yet it delivers a ton of hydration through hyaluronic acid and calcium-rich Réotier water that penetrates your skin. The best part? No greasy residue whatsoever! Pro tip: keep this moisturizer in the fridge and you'll get an extra dose of cooling freshness when you apply it in the morning.
Beauty treatments that are worth every penny
This year's trends dictate natural skin and lightweight foundations, but for that to happen you really have to make sure your skin is healthy and beautiful. Besides regular skincare, invest in beauty treatments that actually get the job done. Microdermabrasion, for example, is one such treatment, and if you're dealing with fine lines, textured skin, scarring, or hyperpigmentation, this can really help smooth it all away.
Glycolic acids, IPL treatments, and facial massages are also great. Another thing that's definitely worth the splurge would be professional lip fillers, especially if you get the temporary ones that will plump your lips in a very natural, subtle way and give you that perfect pout to show off. Whichever one you choose, always make sure to find a clinic and doctor you can trust, because you do want everything to be done by certified professionals who put your wellbeing first.
Smoothing primer that really works
Okay, we all know about Tatcha's Luminous Dewy Skin Mist and how gloriously wonderful it is to set makeup with, but the brand is taking over Instagram yet again with its latest product – The Silk Canvas Protective Primer. This primer is the gentlest thing ever because it smoothes your skin, fills in the pores, controls the oil, but it also keeps it protected. Pores won't get clogged with makeup and there'll be fewer breakouts if you have sensitive skin that tends to flare up easily.
Eyeshadow palette that you will actually want to use
We had to put two suggestions in there simply because there's generally two types of makeup junkies – those that want to keep it practical and don't have much time to bother mixing and matching colors in the morning, and those who want to go crazy and play with every color of the rainbow. For practicality, try Too Faced's Natural Eyes eyeshadow palette because it's full of versatile everyday colors and you're bound to make use of all of them. If, however, you prefer color, then Jaclyn Hill Eyeshadow Palette from Morphe is a cult classic by now. It offers such a great range of everything – mattes, shimmers, neutrals, and pigmented colorful shades. You can use it for any occasion and really get creative.
Sometimes, a good beauty investment will actually save you plenty of bucks. And sometimes it will just make you happy. Treat yourself occasionally, gals! Pick any of these products and enjoy the luxury.