ZALORA is an exciting place online that is a one-stop destination for clothing and footwear. It has been introduced to serve the fashionable people of the Philippines to a great range of local and international designs. You are treated to a wide range of designer clothing and footwear, with affordable pricing and world-class customer service. 

Here at ZALORA, they focus on building an enjoyable and memorable experience. They have arranged a team of experts in the fashion industry for the latest trends, fashion advice, and exclusive look into the fashion industry. Together with a wide range of secure payment options, fast delivery system, and Customer Service that is both friendly, and efficient, brings you a shopping experience that is convenient, secure and fun!
What I Love about ZALORA
Easy navigation and intuitive operation
ZALORA online store is extremely well laid out making it very easy to use. During your first visit to ZALORA you are guided through the shop step by step to complete your purchase with ease. As you come back you will see how your experience becomes more and more personalized.
Simple and safe shopping
Once the desired items are in the cart, you can choose between the broadest ranges of secure payment options. Payment can be simply made by cash on delivery, direct debit, over the counter, credit card and PayPal. After a successful order, you are informed about the current status of your order. You will then receive a tracking number with which you can follow up their order until delivery.
Fast Shipping
Due to ZALORA's  innovative business model they can shorten the delivery time to 3 hours in their VIP delivery service. Nationwide orders are usually delivered in less than 48 hours!
Free Delivery
At ZALORA, customers don't pay a cent for the shipping of their orders.
Free Returns
Shoes and clothing sizes will always vary – for example, a shoe might not fit. At ZALORA, they accept returns within 30 days after you receive your goods.
Comprehensive and personal service
Every time you have any question you can use the ZALORA's toll free hotline or the customer service chat. Don't forget that ZALORA's objective is to offer you an effortless online shopping experience.
Unparalleled product range
On ZALORA, you will find the biggest international brands as well as the most relevant Filipino products.
Ultimate experience
Sign up for our newsletter, join us on Facebook and follow us on Twitter to keep updated on all our latest finds, hottest looks and newest trends.
And now, I am so proud to got an offer from ZALORA PHILIPPINES to become their BRAND AMBASSADOR. Thank You Ms. Cassey for the trust and oppurtunity.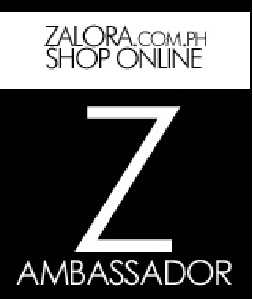 And as a simple treat for all my lovely readers and followers, below is an exclusive 5% discount code for all of you! Enjoy shopping! 🙂
Read my Product Review of My first purchase from ZALORA