Sea salt that is produced by the evaporation of sea water is not only a healthy alternative to table salt. But it is also known for its astounding beauty benefits.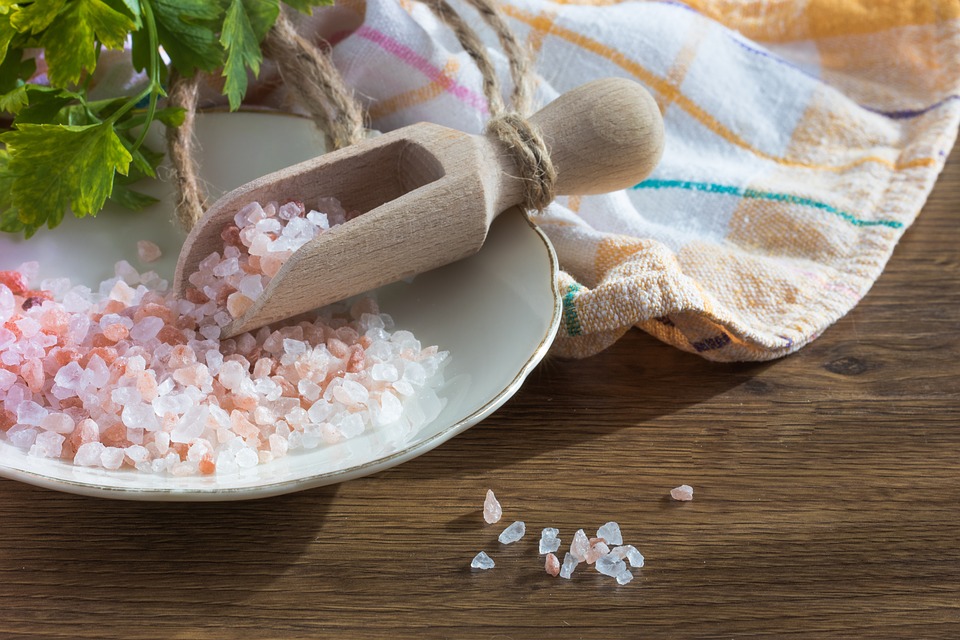 Enriched with minerals like magnesium, sodium, potassium, calcium, iodine, zinc and others, sea salt acts like a magic drug that bestows a number of perks on the body that we strive to obtain and hence choose harmful and expensive beauty products that come with tremendous side effects.
So shun the artificial chemicals and embrace nature by opting for salt that improves you skin, hair, teeth and nails in ways that you won't believe. Let's take a look.
Promotes Healthy Skin – You can achieve smooth and healthy skin that is devoid of any problems with the help of sea slat as it helps in purifying and detoxifying the blood. Not only that, the magnesium content of the sea salt helps in making the skin youthful, firm and supple and the salt also helps in toning the skin. Apart from that, it also has anti-ageing properties and treats skin conditions like Eczema, acne and Psoriasis.
Deep Cleanses Pores – If you skin feels clogged up, for a deep cleansing you can use sea salt as a scrub. For a great pore purifying treatment, you can opt for it after a facial steaming.  For this you need to take a small bowl and with a couple of drops of tea tree essential oil add 1 teaspoon of raw honey and 1 teaspoon of sae salt in it. Then by avoiding the eyes gently scrub this on the clean face. After keeping it for 5-7 minutes clean the face with cold water. Post that tone the face with green tea that is cooled and then use a water-based moisturizer for moisturising the facial skin.
Clarifies Hair and Drives Away Dandruff – The hair can feel gross and look limp because of the product-build-up. But if you add sea salt to the shampoo and use it to clean the hair you can get rid of the gunk. Not only that, sea salt also comes to your rescue if you have dandruff. The sea-salt helps to loosen and get rid of the flakes of dandruff present in the scalp apart from disinfecting it. The excess dirt and oil that contribute to the formation of dandruff are also driven away by it. You can use salt scrub or spray to deal with this.
Brightens the Nails – The salt softens the skin and the cuticles and strengthens the nails. If you mix it with lemon and baking soda and soak the nails in the mixture for 10-12 minutes and scrub the nails with a soft brush, you will end up with brighter and healthier looking nails. The yellowing of the nails and stains on the nails will be gone and you will achieve the beautiful nails that you always craved for.
Acts as Natural Mouthwash – Sea salt helps to fight bad breath as it is antiseptic. All you have to do is in a quarter cup of warm water dissolve half teaspoon of sea salt and half teaspoon of baking soda. 2 drops of peppermint essential oil can also be added to this. Then after swishing this into you mouth and between the teeth you can just spit. After that rinse the mouth with water.
Provides Oral Care – The sea salt is a hot favourite of most dentists. This is because it contains fluoride that enhances your teeth. Fluoride is the major ingredient in most toothpastes and is recommended by all the dentists at the nearest dental clinic for preventing cavities. Apart from that, the sea-salt also helps to nourish and heal the gums and prevents mouth sores, bleeding gums and ulcers.
The above are some of the remarkable beauty benefits of sea salt. Now that you are aware of its magical properties, make the most of sea salt and be radiant without any side-effects.
Author Bio:-
Akshay Sharma is a digital marketing enthusiast and has written many topics in the related field. He works with Clove Dental and help you to find the nearest dental clinic in your area.